Low Carb Chicken Salad !! – A Healthy Keto option
As you want to make it, making Low Carb Chicken Salad can be as easy! You can use canned chicken, from the hot section of the grocery, buy a whole roast chicken, in the microwave boil it in water or on the stove, or with some coconut oil/ghee sear it in a pan. How much time and patience you have that really depends on this.
You see the best fit but personally, I would go any route. I like my chicken a little crispy. For this recipe – Low Carb Chicken Salad, I pan seared the chicken thighs, but traditionally you'd boil it in hot water. However, what you add to the chicken it's really all brings it all together.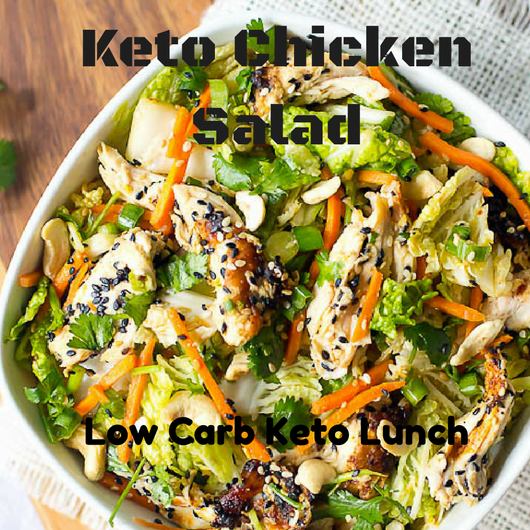 In college my favorite chicken salad came, the addition of grapes, pecans and the perfect mayo that what made this chicken salad so special to chicken ratio. The chicken wasn't shredded and not too big in size.
It's just been sitting on my SD card for the past few months, I actually made this recipe a few months ago. Last night, I remembered that I hadn't uploaded this recipe while I was browsing through my pictures, and completely forgotten about it!
Also Read: Zucchini Crust Grilled Cheese & Brie & Apple Crepes
Is Chicken Salad Low Carb?
I was really excited when I first made this salad because recently found some artichoke hearts at that time.
At any place that serves, Chicken salad is my go to, the addition of sour cream that's what makes this chicken salad recipe so different in all the best ways possible. Yes, smooth, creamy, sour cream, subtle in flavor! If you like this recipe then share this Coconut flour pancakes recipe on Pinterest and Facebook and other social platforms.
Keto Chicken Salad Nutrition Facts
Cal: 220
F: 15g
C: 1g
P: 8g
Ingredients
1 avocado
1 boneless chicken breast about 300g, with or without skin
1/4 tsp Himalayan salt
1 tbsp extra virgin olive oil
5 asparagus
1/4 tsp black pepper
4 cups baby spinach I used about 200g
1 large tomato any colour
1 har artichoke hearts my jar was 170g
1/2 red onion
100 g mozzarella balls
20 leaves basil
Dressing
Pinch Himalayan salt
1 tsp dijon mustard
2 tbsp extra virgin olive oil
1 1/2 tbsp balsamic vinegar
1 clove garlic
pinch black pepper
Instructions
Slice the red onion. Peel and dice the tomato and avocado. Pile the basil leaves together, slice and roll them up. Slice in half and cut the stems off the asparagus. Mince the garlic.
In half lengthwise slice the chicken breast. Sprinkle the 1/4 tsp of pepper and salt on each sides. In a cast iron skillet heat the 1 tbsp of olive oil and place the chicken breasts in. About 3 minutes each side fry on each side, Cook until they have a nice golden brown color. Beside the chicken breasts add the asparagus and cook a few minutes until grilled and soft. Take out the chicken and slice.
In a small bowl, combine the olive oil, minced garlic, dijon, balsamic vinegar, and salt & peper.
To a large bowl or plate add the baby spinach. Cover with the avocado, mozzarella, grilled chicken, tomatoes, artichoke, asparagus, red onions and basil leaves. Over it pour the dressing and enjoy!
Nutrition Information
Serving Size
1 grams
Amount Per Serving
Unsaturated Fat

0g